HydroWHIZ Pump Controllers
MATelec Australia's HydroWHIZ Controller has been designed with ease of use at the core of the system design. Building on the wealth of the pump control features in the Advanced controller, the HydroWHIZ brings these features into a new age with a colour touchscreen interface and a streamlined setup process.
In a world where information is power, the HydroWHIZ has extensive time and date-stamped alarms, logged data, trend graphs and diagnostic pages to provide the user with
all the information required for optimisation and preventative maintenance. Featuring the flexibility of level, pressure and temperature system modes with a wide range of functions and protections, the HydroWHIZ controller is ideal for a vast range of applications, including water transfer, stormwater and sewage pump out, pressure boosting, hot water circulation and chiller supply, to name a few.
Hardware Features
DOL & Soft Start
Contactor and thermal overload protection of pump motors
Din rail mounted terminal connections
Individual pump isolation
Circuit Breaker protected low voltage control and input circuitry
Visual and audible alarms
Soft starter per pump with adjustable soft start and stop (Soft Start version)
VSD
Din rail mounted terminal connections
Pad-lockable mains power isolator switch
Integral ventilation and thermostatically controlled fan
IP54 rated,powder coated mild steel enclosure with removable gland plate
Variable speed drive per pump
Individual pump circuit breaker protection
Circuit breaker protected low voltage control and input circuitry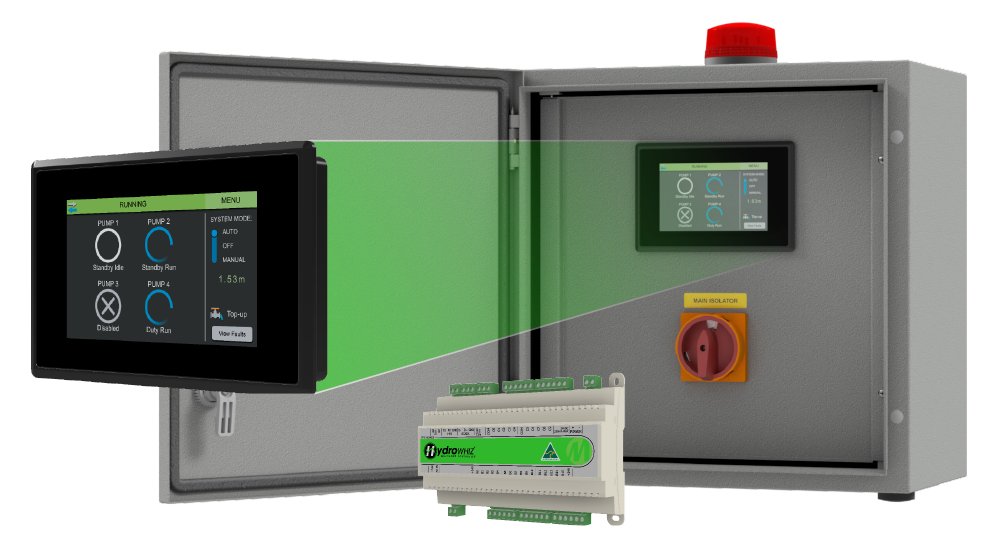 Residential

Building Services

Industrial & Commercial

Irrigation

Sewage
Swimming pool
Irrigation
Rainwater harvesting
Grey water
Pressure boosting
Hot Water circulation
Stormwater
Undersink/sullage interlock

Fire systems - jacking pump
Condensation catchment
Emergency storage - tank fill
Stormwater
First flush diversion system
Rainwater harvesting
Hot water circulation
Pressure boosting
Undersink / sullage interlock
Lit well sump / seepage
Sewage lift

Fire systems - jacking pump
Chiller / cooling
Temperature control
Constant pressure
Flow control
Level control
Pressure boosting
Hot water circulation
Filtration
Dosing systems
Trade waste management
Stormwater

Rainwater harvesting
Storage balancing
Water transfer
Constant pressure
Local weather interface
Remote monitoring and control
Fertiliser dosing
Filtration